For the third consecutive year, the Bestinvest.hr conference brings together investors and entrepreneurs and awards fast-growing companies and successful investments that significantly contribute to the development of the Croatian economy.
Member of the Arsano Medical Group, Specialty Hospital Arithera, is this year's laureate. Provectus Capital Partners and Specialty Hospital Arithera received recognition in the Private Equity Investment of the Year 2022 category.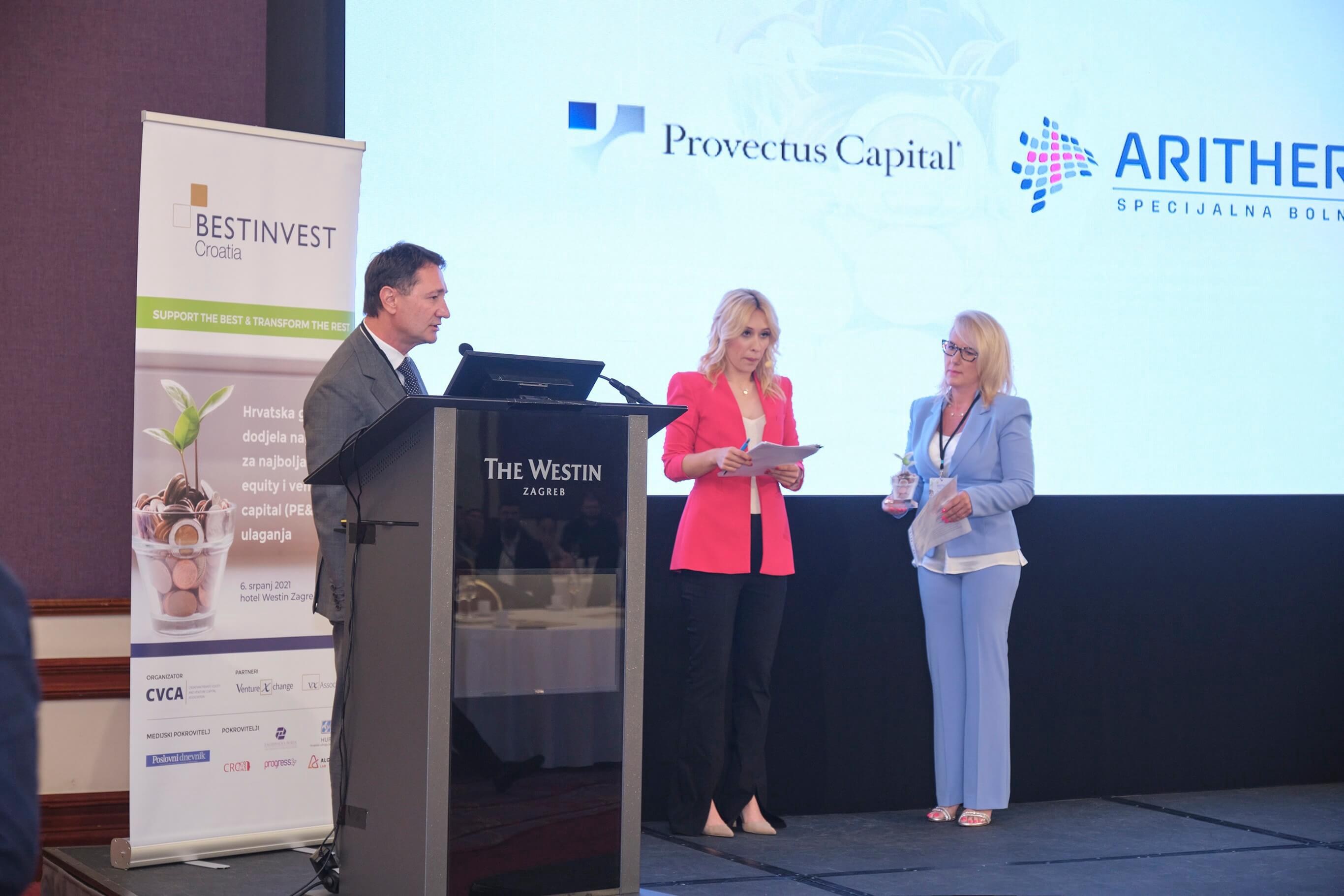 "As the founder and long-time owner of Specialty Hospital Arithera, now as the director and co-owner of Specialty Hospital Arithera - a member of the Arsano Medical Group, I want to emphasize that this award is a great incentive for new business ventures and recognition for everything Arithera has embodied and achieved in 25 years of operation in private entrepreneurship in healthcare.
We at Arithera have often been pioneers with ideas and innovations that we have implemented in our business. As such, we are recognized by our new co-owner, Provectus Capital Partners, with whom we will turn a new chapter in the success story of our hospital.
Our goal is to set even higher standards for further development of Specialty Hospital Arithera and in that direction, we plan activities that will enable the formation of a comprehensive hospital that will provide patients with comprehensive healthcare services and care.
The first important task we have already solved is the selection of a location for the new hospital complex. We will also ensure that the hospital is equipped with the latest technology and equipment. We will further strengthen medical teams and provide a wide range of diagnostics, non-operative and operative treatments, as well as physiotherapy and rehabilitation according to the highest Arithera standards."

Arijana Hegediš Došen

co-owner and director of Specialty Hospital Arithera
As a reminder, in July 2022, Provectus Capital Partners invested in Specialty Hospital Arithera. The investment is part of the consolidation of private healthcare services in Croatia and Slovenia through the Arsano Medical Group, the leading medical group in the Adriatic region. The consolidation began with the acquisition of Poliklinika Aviva in 2021, followed by a series of additional investments in 2022: Poliklinika Urocentar and Dijagnostika 2000 (January 2022), Specialty Hospital dr. Nemec (May 2022), and Digitalna Slikovna Dijagnostika (December 2022). Arsano Medical Group has over 450 employees and consolidated revenue exceeding 35 million euros.
Provectus Capital Partners was also awarded in the Fundraising of the Year 2022 category and the Investor of the Year 2022 category at the bestinvest.hr conference.